AVA & YVES
ava & yves stands for fine stationery on recycled paper as well as favorite things made of fabric and porcelain,
designed with a lot of heart and produced in Germany
The company ava & yves was founded in 2013 by Geraldine Koppmann and has its home in Bielefeld. Here, the mother of two sons also studied graphic design. Of course, her biggest inspiration for designing unusual children's clothes is provided by her own children. The whole success story around ava & yves started with the lovingly designed postcards by Geraldine. The sweet motifs on the postcards were so well received by their customers that the product range of the label has meanwhile increased considerably.
Geraldine
Geraldine is the mother of two sons and studied graphic design in Bielefeld. She worked as a graphic designer for several years for a large media company.
Of course, her biggest inspiration for designing unusual children's clothes is provided by her own children.
The illustrations are all from me. It is very important to me that the designs have a line and, in spite of the many different materials, give a coherent picture.
I find it very exciting to see my designs on new materials. That's why there are so many different products.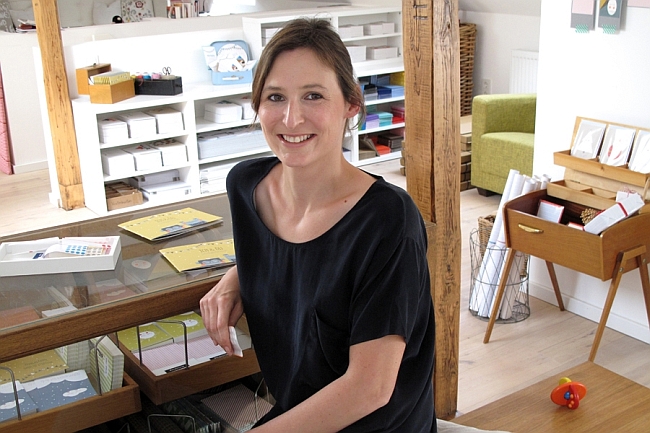 Our Standards
We attach great importance to sustainability in the production of our products and use only natural and organic certified materials.
"Sustainable development means for us to consider environmental aspects on an equal footing with social and economic aspects. Sustainable economics means that we must leave our children and grandchildren with an intact ecological, social and economic structure. One is not without the other. "
Collaboration
For the production of our products we cooperate with several handicapped workshops in Germany.
In workshops, people with disabilities, but also with mental or social disabilities, find opportunities for training, employment and rehabilitation. Integration companies and integration specialist services provide disadvantaged people to the general job market. Long-term unemployed people can take part in vocational training measures in the workshops.

Our Studio
Our studio is located in Steinhagen near to Bielefeld.
We assemble and ship all our products ourselves from Steinhagen.